CURE definition
A Centre for Urban Re-manufacture, is a meeting place for anybody interested in engaging in improvised re-manufacturing. It is a place for experimentation, where locally available secondary materials are sorted, stored and prepared to be reused and/or re-manufactured. With a creative approach CUREs aim to find uses for materials that are currently not recovered, focusing on specific industrial and commercial waste (e.g. resources discarded from events, theatre plays, films, construction sites, large commercial houses, etc) as well as consumer products that are not covered by the current extended producer responsibility regulations (e.g. furniture, textiles). These centres aim to become a matchmaking arena to connect existing secondary materials to local needs, recovering in that way material resources locally. CUREs do not engage in material recycling, but rather in preparing materials and products for reuse and re-manufacturing, as well as reusing and re-manufacturing items.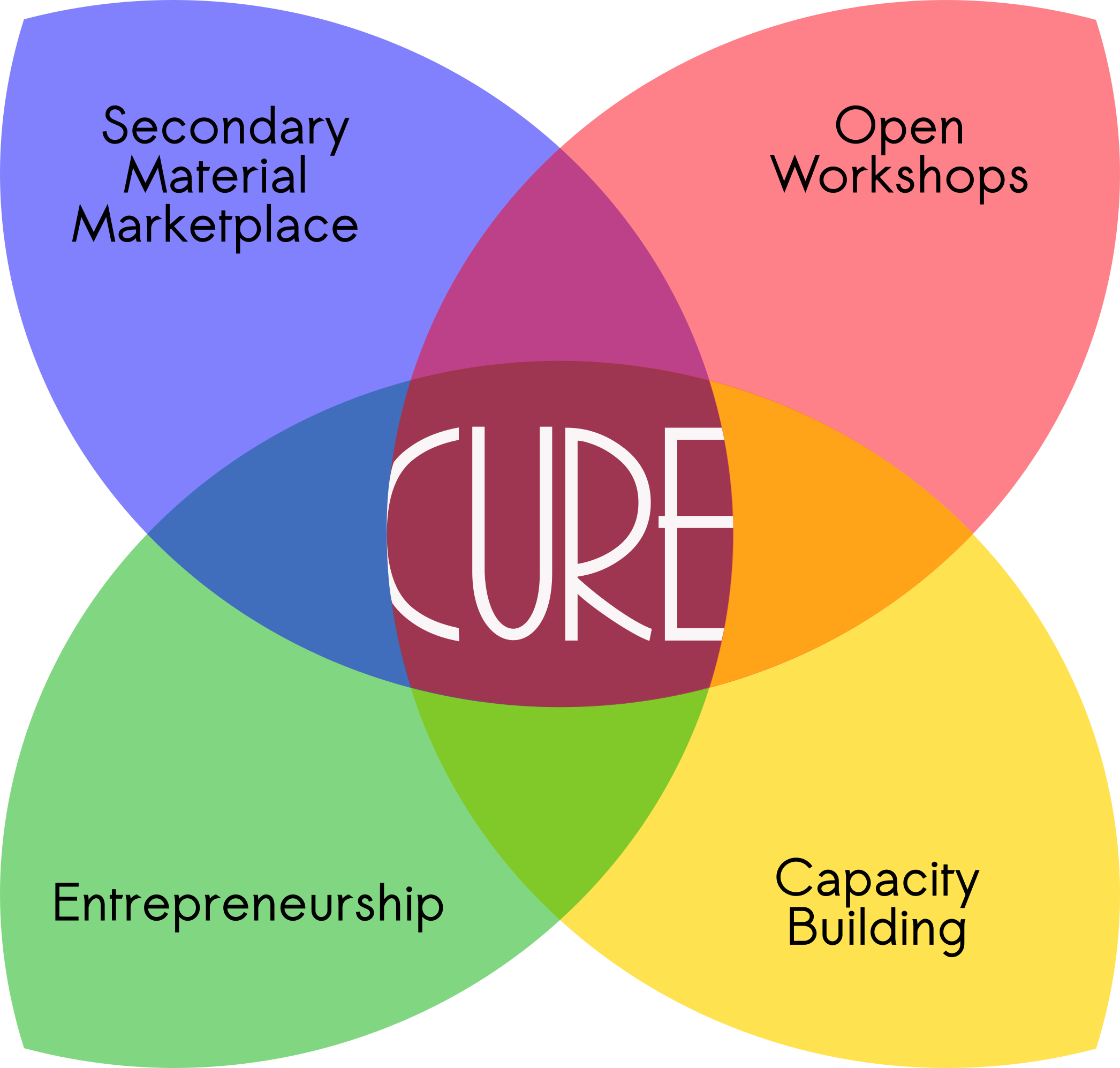 We define improvised re-manufacturing as the act of altering materials or objects that have not been originally intended for re-manufacture, in order to create new value. In this type of re-manufacturing, the actors using the secondary material are not the original manufacturers and the product developed might have no relation to the original product.
CUREs are both the physical place and network of actors that provides, experiments and eventually reuses and/or re-manufactures secondary material. These centres intend to increase the amount of local secondary material used, helping redirect waste volumes into value creation activities. It is expected that once initiated, CURES could find a model of operations that would make them financially sustainable, so that they generate employment and revenue in a model that would be closer to a desired circular system.
Secondary material
Secondary materials can be materials but also components or entire products. For example, metal tubes, the metal structure of a chair, or a metal locker. It can be products that need to be repaired, or that can be possible to directly reuse or re-manufacture.
Open workshop spaces
Specifically, CUREs should have a workshop space with equipment to cut, alter and join wood, metal, plastics and textil based components. The workshop space should be possible to be used by several interested actors. If it is regularly open for the general public, or several re-manufacturing groups, or if people need to apply to use it with specific projects, or can access it through organized events coordinated by a CURE team, it is up for each consortium to decide.
Capacity Building
The centre organizes activities such as workshops, classes, networking events and material match making sessions. Some activities are targeted to the general public, while others are specific to local producers, material providers or potential manufacturers. Broadly the centres operate following open source ideals.
Entrepreneurship
The centres will showcase cases of locally re-manufactured products, helping spread their visibility and availability in local markets. Specific events will be organized to help up-scale local re-manufacture and support entrepreneurs in their business development.